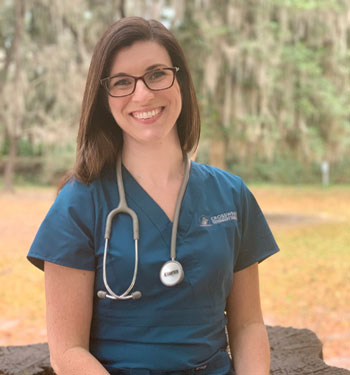 Liz Bigelow
Lead Technician, CVT
Liz is originally from Lilburn, Georgia, a small suburb of Atlanta. She completed her Associates in Veterinary Technology at Gwinnett Technical College in 2004 and undergraduate degree in history from the University of Georgia in 2009. She is a certified veterinary technician/nurse and is currently working to become Fear Free certified. Prior to joining the Crosswinds team, Liz worked in private and referral practices as well as teaching veterinary technology at a local medical college. She enjoys all aspects of veterinary medicine but has a strong passion for preventative medicine and education. Liz currently resides in St. Augustine, Florida with her husband, Brian, two children, Amelia and Connor and two dogs Pippa and Reese. In her free time you can find Liz in the crowds at Disney World, working on her fantasy football team or watching college football with her family. Go Dawgs!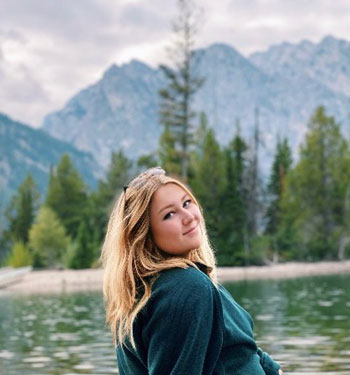 Taylor Wilson

Taylor is originally from Austin, Texas, where she spent most of her childhood around animals of all kinds. She is currently enrolled at UNF and is studying to complete her undergrad in Biomedical Sciences and will be applying to Veterinary school after. Taylor is a Customer Service Representative and is being taught technician skills to aid in her education and growth. She has 3.5 years of Emergency Veterinary experience & over a year of experience in General Practice. In addition to her role here at Crosswinds, she also works for a low-cost mobile vet clinic that serves the greater Jacksonville area. Taylor currently resides in Jacksonville, Florida with her cat, Benny, where she will stay to finish her undergrad courses before moving onto her higher education goals. Taylor loves all things Halloween and visits Ocala's very own "Spookala", horror convention every year. During Taylor's free time, she can be found spending time with friends, going to the gym, or enjoying the Florida sun outdoors. She loves to make new friends and cannot wait to meet all of your furry family members!