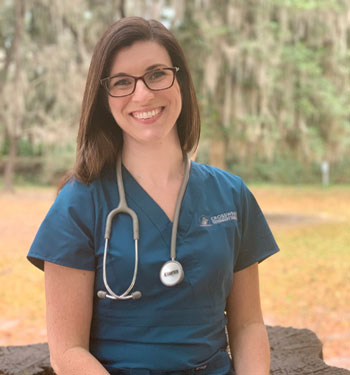 Liz Bigelow
Lead Technician, CVT
Liz is originally from Lilburn, Georgia, a small suburb of Atlanta. She completed her Associates in Veterinary Technology at Gwinnett Technical College in 2004 and undergraduate degree in history from the University of Georgia in 2009. She is a certified veterinary technician/nurse and is currently working to become Fear Free certified. Prior to joining the Crosswinds team, Liz worked in private and referral practices as well as teaching veterinary technology at a local medical college. She enjoys all aspects of veterinary medicine but has a strong passion for preventative medicine and education.
Liz currently resides in St. Augustine, Florida with her husband, Brian, two children, Amelia and Connor and two dogs Pippa and Reese. In her free time you can find Liz in the crowds at Disney World, working on her fantasy football team or watching college football with her family. Go Dawgs!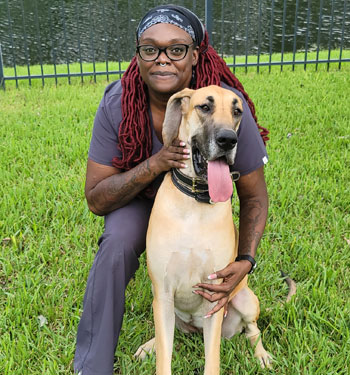 Erica Krumrey
I am the proud owner of 2 Great Danes, 1 English Mastiff, and a Miniature Dachshund. My love for animals started at a young age. I knew early on I wanted to work within the veterinary field. For the past 5 years, I have been fulfilling my childhood dream of working as a Veterinary Technician. In addition, I am currently obtaining my degree to become a Certified Veterinary Technician. Now amid my last semester, I've had the privilege of joining Crosswind's amazing staff. In my spare time, I love to spend time with my wonderful family. My loving husband and I are coming up on our 17th wedding anniversary and couldn't be happier. I am also very blessed to be the proud mother of my 16-year-old son. It's through God's strength and their love and encouragement that my dreams are possible.

Elicia Allemond
My name is Elicia, I've been in the vet field for three years now but I did grow up in the field thanks to my mom. At the age of five my mom showed me how amazing working with animals is and now here I am. I now have two cats of my own, Josie and Jemma whom I absolutely adore and working as a Veterinarian Technician. I love being a technician because it allows me to help animals while also making the process as kind and gentle as possible. Some of my favorite things outside of work are cooking, getting sushi, and going to Dave and Busters with my amazing boyfriend. I also love relaxing by either going to the gym or just sitting at home watching movies with my little family. My favorite thing of all though is coming to work and helping make a difference, whether it be a cat, dog, or even clients that are stressed or worried. One thing I can say is that I've found my forever career and I'm very grateful that it is Vet med.