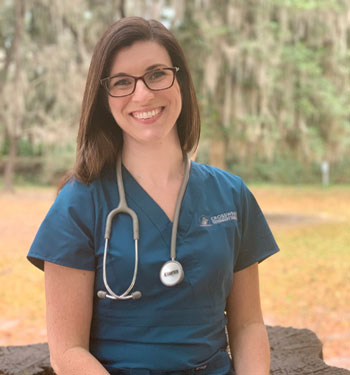 Liz Bigelow
Lead Technician, CVT
Liz is originally from Lilburn, Georgia, a small suburb of Atlanta. She completed her Associates in Veterinary Technology at Gwinnett Technical College in 2004 and undergraduate degree in history from the University of Georgia in 2009. She is a certified veterinary technician/nurse and is currently working to become Fear Free certified. Prior to joining the Crosswinds team, Liz worked in private and referral practices as well as teaching veterinary technology at a local medical college. She enjoys all aspects of veterinary medicine but has a strong passion for preventative medicine and education.
Liz currently resides in St. Augustine, Florida with her husband, Brian, two children, Amelia and Connor and two dogs Pippa and Reese. In her free time you can find Liz in the crowds at Disney World, working on her fantasy football team or watching college football with her family. Go Dawgs!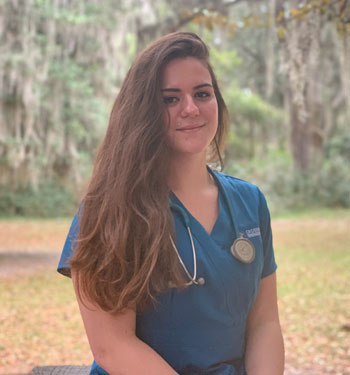 Nathasha
Technician
My name is Nathasha, I'm from Puerto Rico and I have been in the Veterinary field since November 2016 and fell in love with it so much that I am currently pursuing a career in getting my CVT with Penn Foster college. You can find me in my happy spots via the laboratory or in surgery. I am also Fear Free Certified.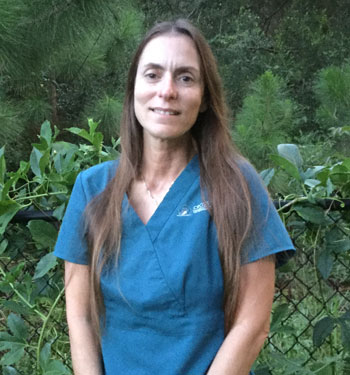 Nicole Bongermino
Technician
Nicole has been in the Veterinary field since 1988 and officially as a Veterinary Technician in 1994. She has worked in all areas of the Vet field from kennel to Manager. She has also Managed a Pet Store in Boca Raton, FL where she learned about exotics and birds by working alongside Veterinarians that specialized in those fields. Although she likes all areas of the Vet field, her specialty is surgery, especially Dentistry. Nicole grew up in Boca Raton, FL and moved to Palm Coast, FL in 2011. She is a single mom and now calls Palm Coast home with her son KIefer and her cats, dogs, and turtle. In her spare time you can find her at the beach or at home playing video games with her son.